Here's what you need to know as you return to St. John Fisher Church.
Mass Schedule:
Daily morning masses Monday to Friday at 9 a.m.

Evening masses (Tuesdays at 7 p.m. and First Fridays at 7 p.m.) have not yet resumed.

Our weekend mass schedule:
Confession:
Capacity:
Health Protocols:
The following health protocols must be observed inside our worship space. Please:
Wear a mask that covers your nose, mouth and chin at all times.

Sanitize your hands as you enter.

Sit in the pews marked with a green X.

Follow the instructions provided by the ushers.

Sanitize your seat before leaving.
DO NOT socialize in the parking lot after services.
Offertory:
Ushers will once again pass the basket around to accept your contributions to the church.
Communion:
The Communion line begins from the back pews of the church.
Please keep your mask on and only remove it to consume the Eucharist.
Cardinal Collins continues to dispense the faithful from their Sunday obligation. If you are symptomatic, have a compromised immune system or have a greater risk of infection, please stay home.
We are all together in this difficult time of pandemic. As one St. John Fisher parish family, I encourage all of us to join our prayers with those in the whole world raising our voices to God for strength, help and assistance. Let us honestly listen to God's message in our hearts.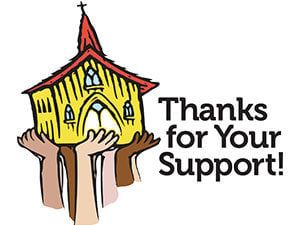 Thank you for your continued support. If you are able, please continue to give your donation to our church. Your continued financial assistance is very badly needed during this time of lockdown. You can send your donations through postal mail or drop your envelopes in our mail box or in the Donation box at the back of the church. Thank you very much for your generosity!
Thank You and God Bless You! Fr. Regs