History of St. John Fisher Parish
This history is written with information from Vera Nolan and the 50th and 55th Catholic Women's League Anniversary Booklets. If you know of any details missing from our church history, please email them to michellefrizza@gmail.com.
1962
February 18: St John Fisher Council Catholic Women's League received its Charter. Reverend A P Caley was the spiritual director and Winnie McCormack was the first CWL President.

St John Fisher's first choir was formed; Martin Conroy was the director and Janet Atherley was the organist, followed by Wilma Herweir. Practices were held in a little trailer on Autumn Blvd that was also used by the First Bramalea Baptist Church.

St John Fisher Holy Name Society was formed and Bill Gorelle was the first president.

The first separate school softball league was formed. St John Fisher's team was called the Giants and in the first game we won over Our Lady of the Airways Parish (11-6).

Most Rev Archbishop Phillip Pocock declared that a parish should be formed.
1963
St John Fisher Parish was established.

Father Jerry Alcorn was administrator of Our Lady of the Airways Parish in Malton and was instrumental in the establishment of St John Fisher Parish. St John Fisher Parish was its mission church.

Father Jerry Alcorn celebrated Mass at Aloma Public School. Sunday Mass times were 8 am, 9:30 am and 11 am. Daily mass was celebrated Monday-Saturday.

June 27: Most Rev Archbishop P F Pocock appointed Father Edwin J Platt as our first pastor.
1964
May 24: The first Parish census was taken under the direction of Father Platt.

May 31: New envelopes were started. The parish had 100 families.

Father Platt had already put aside $3,000 but we needed $62,000 to start building our church. That is when the Strawberry Festivals, the Roundups and Windjammers fundraisers got their start. The CWL, CYO and CCM all worked together.

A house was purchased. The deed was signed by Patrick Keating and five other men of the Parish. Roman Catholic Parish Residence and Chapel was located at 255 Avondale Blvd and the telephone number was 451-7203.

The main Altar in our Church today was in the basement of that house. It was our first Chapel.

The altar has been restored twice: Harry McGourty, Theresa Gollelle's father, did it the first time and Father Grima had it done the second time.

June 20: Father Bronislavs Kokins was appointed as Pastor.

October: St John Fisher's first Catholic Youth Organization (CYO) was formed and Janis McGrath was the first president.

December 8: The CWL stages its first Christmas Social that was held in St John Fisher School. The event had raffles for cakes, fruit baskets, jewellery and a doll. They sold knitting, doll clothes, slippers, decorations, baking, and had a flower demonstration by Fendley Florists of Brampton. The CYO ran an Odds and Ends Booth and raised a grand total of $97.
1965
St John Fisher Youth Boys Hockey Club was formed.

April 3: The Church is planned.

December: Construction is started on the Church building.
1966
The Parish had 450 families and 650 children in St John Fisher School.

The Society of St Vincent de Paul was formed in the parish.

June: The Church building was completed.

August: The Church opens its doors to the faithful.

October 23: Solemn Blessing given over St John Fisher Church by His Grace, the Most Rev Archbishop Phillip Pocock.
1967
September: Canada's first Ecumenical service was hosted in St John Fisher Parish.
1969
September 19: Father Clair Tipping was appointed as the new pastor and the first Parish Council was formed.

The parish had 900 families.

Suggested stipends: Mass (not announced) - $2; Mass (announced) - $5 (or waived); Baptism - $5 but not compulsory; Marriage - $20 average; Priest Fee for Funeral Mass - $15; Organist - $20.00 customary fee.
1971
June 27: Father Jerry Alcorn was appointed Associate Pastor.
1973
Our Parish had 1500 families.
1974
1975
June 12: A new Sanctuary Crucifix was installed in the Church which symbolized the Crucifixion and the Resurrection. It was donated by Estelle Tipping, Father Clair Tipping's mother, in memory of his Father Dr. C E Tipping.
1977
The CWL donated one of the three stained-glass windows depicting the Crucifixion.
1977-79
Through the contributions of many parishioners, the principal window that depicts the Ascension of Jesus to the Glory of His Heavenly Father was erected. You can see it above the main doors when you exit the Church. The donor names are perpetuated in the book of memory installed in Our Lady's Chapel.
1978
1979
1980
June 19: Father Edward J Mahoney was appointed the new Pastor.

July 20: Father Clair Tipping died at the age of 55.

Under his leadership, Father Mahoney started the RCIA Program, Bible Study, Morning and Evening Prayers, the CWL Three Kings Party and hosted a yearly CWL retreat at his beautiful Forks of the Credit residence.

Father Jim Tobin was the Associate Pastor. N.B. This assignment is not recorded by the Archdiocese of Toronto.
1981
April: Our parish had 1800 families.
1983
June 30: Father Peter Toth was assigned as Associate Pastor.
1986
1988
1990
1991
July 1: Father Edward J Mahoney retired.

July 2: Father Alfred J Grima was appointed as our new Pastor.

October 25: Father Francis Lewis was appointed Associate Pastor.
1993
September 5: Deacon John Richard Cordina was assigned to our parish.
1994
1997
1998
The first CWL Pasta Dinners was held. The 22nd Pasta Dinner was held in February 2020. It is one of many popular social activities of our Parish. Proceeds are donated to the Parish.
2000
The first CWL Easter Fair was held. The event was for children aged 3-11 and included fun activities such as face painting, crafts, Easter Parade, sing-a-long, refreshments and ended with an Easter Egg Hunt.

Our Parish had approximately 4000 Families.

September 15: Father Gerardo Bandalan was appointed as Associate Pastor.
2001
The statue of Our Sacred Heart was donated and placed at the main altar.

The Ceiling Mural, above the Altar, is painted with the symbols of the Sacred Heart, Dove, Cross, Chalice, Jug, Wheat, Grapes, Candle and a vine.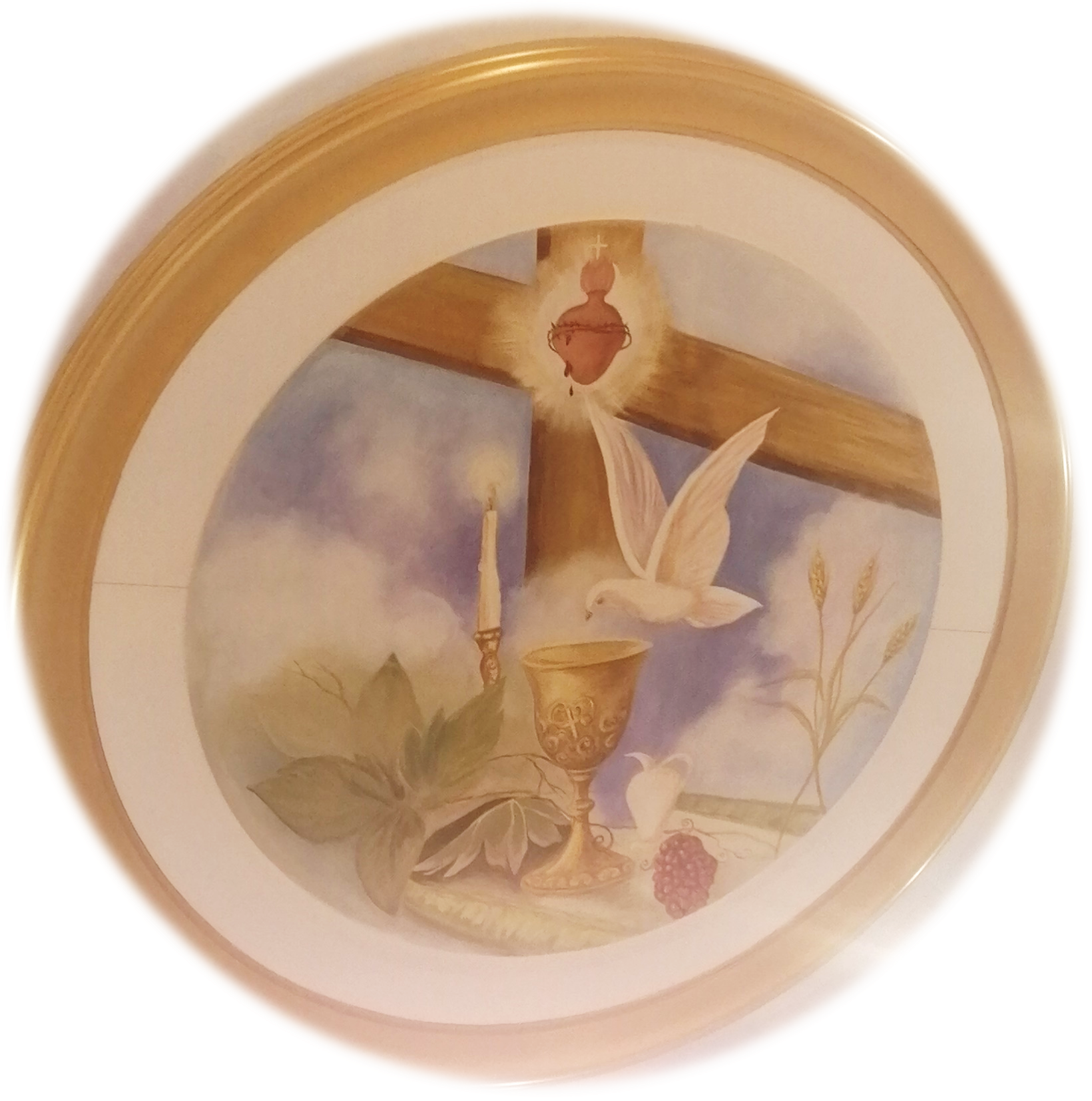 2002
June 22: Deacon Larry Ouimet was ordained to the Permanent Diaconate at St Michael's Cathedral and was assigned to our parish.

July 23 -28: The 17th Annual World Youth Day was held in Toronto with Pope John Paul II. St John Fisher Parish hosted over 150 pilgrims from Wisconsin, United States. The pilgrims stayed with parish families including several CWL members. This was Pope John Paul II's last World Youth Day.

September: The CWL celebrated its 40th Anniversary at St John Fisher.
2003
May 29: Father Vincent Martorella died.
2004
January 16: Father John A O'Donnell died.
2005
Our Parish had approximately 5000 families.
2006
2008
April 3: Father Joseph Sciberras entered In Residence at our parish.
2009
May: The CWL held its first Mother's Day Spa and treated approximately 70 women to nail care, make-up tips, body and foot massages, fitness stretches, high blood pressure check-up and counselling, viewing of I Love Lucy shows and light refreshments all for a cost of only $10.

September 9: Father Andrew Lewis was assigned as Associate Pastor.

December: The CWL sponsored a Walk to Bethlehem for the Advent season for the CWL Archdiocesan Community Life Project. Each participant, including Fathers Grima and Lewis, was given pedometers to wear to track their daily steps and submitted them at the end of each week. Father Grima had the most steps at the end of the four-week period. We needed 11,623,571 steps to reach Bethlehem and the combined total for 4 weeks was 17,314,275. We overreached our target by 5,690,704 steps!

Our neighbour church, St Anne's CWL Council held their first annual Women of Faith Luncheon Fundraiser for women in Peel Region who best exemplify the Women of Faith criteria: Catholic women walking with Mary through their commitments as mothers, daughters, sisters, and friends or as volunteers for parish ministries and/or the community at large. Vera Nolan was the first recipient of the award.
2010
The CWL celebrated the Year for Priests at the annual CWL Pasta Dinner by honouring Father Grima, Father Lewis and Deacon Larry Ouimet with individual commemorative Year for Priests plaques. Altar servers were honoured with certificates for their years of service to our parish.
2011
Our Parish had approximately 6500 families.

June 30: Father Susairaj Savarimuthu was assigned as Associate Pastor.

September 17: Father Platt died.

The Baptismal Font was donated by an anonymous CWL member.
2012
2013
CWL Walkathon Chinguacousy Park for the Parish Restoration Fund raised $4,562.
2016
May 30: Father Alfred Grima retires. He was Pastor of St John Fisher Parish for 25 Years (1991 – 2016). He performed roughly 15,000 baptisms, solemnized 3,500 weddings, and performed last rites for 4,800.

June 30: Father Regulo Imperial was assigned as our Pastor.

June 30: Father Rodolfo Imperial entered In Residence at our parish.

August 19: Deacon Larry Ouimet died. His wife, Eileen Ouimet, was a CWL member and died on February 23, 2016.

August 28: Father Regulo Imperial was installed as Pastor by Bishop Boissoneau. He continues to awaken us spiritually to our Catholic faith.
2017
2019
June 22: Our first Patron Saint Feast Day is celebrated. A one-of-a-kind statue of St John Fisher was commissioned by Father Imperial and unveiled at the 10 am Feast Day Mass. The Mass was followed by an International Food and Entertainment Festival representative of the nationalities that make up our parish family.